Wire Rope Clamps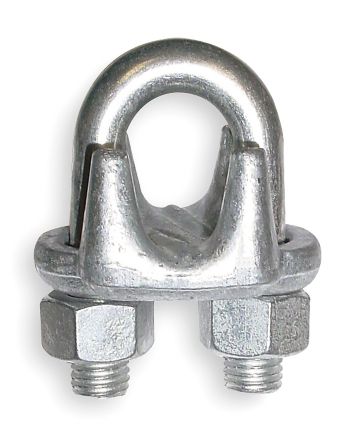 Each base has a Product Identification Code (PIC) for material traceability, the name CROSBY® or "CG"®, and a size forged into it.
Sizes 1/8" through 2-1/2" have forged bases.
Entire Clip - Galvanized to resist corrosive and rusting action.
Only Genuine Crosby® Clips have a Red U-Bolt® for instant recognition.
All Clips are individually bagged or tagged with proper application instructions and warning information.
Clip sizes up through 1-1/2" have rolled threads.
Crosby® Clips, all sizes 1/4" and larger, meet performance requirements of Federal Specification FF-C-450 TYPE 1 CLASS 1, except for those provisions required of the contractor.
IS: 2361
Specificatioons
| | | | | | | | | | |
| --- | --- | --- | --- | --- | --- | --- | --- | --- | --- |
| Nominal Size | A | B | C | D | E | F | G | H | J |
| (Dia. of Rope) d |   | (3A+2d) | (E+A) | (2A+0.6d) | (1.075d) | (C+2A) | (A) | (2.3A) | (Approx A) |
| 8 | M8 | 40 | 17 | 21 | 9 | 33 | 8 | 18 | 14 |
| 9 | M10 | 50 | 21 | 26 | 11 | 41 | 10 | 23 | 18 |
| 10 | M10 | 50 | 21 | 26 | 11 | 41 | 10 | 23 | 18 |
| 11 | M12 | 60 | 25 | 31 | 13 | 49 | 12 | 28 | 22 |
| 12 | M12 | 60 | 25 | 31 | 13 | 49 | 12 | 28 | 22 |
| 13 | M12 | 64 | 27 | 32 | 15 | 51 | 12 | 28 | 22 |
| 14 | M12 | 64 | 27 | 32 | 15 | 51 | 12 | 28 | 22 |
| 16 | M14 | 74 | 31 | 38 | 17 | 59 | 14 | 32 | 25 |
| 18 | M14 | 82 | 36 | 40 | 22 | 64 | 14 | 32 | 25 |
| 19 | M14 | 82 | 36 | 40 | 22 | 64 | 14 | 32 | 25 |
| 20 | M14 | 82 | 36 | 40 | 22 | 64 | 14 | 32 | 25 |
| 22 | M16 | 92 | 40 | 45 | 24 | 72 | 16 | 37 | 29 |
| 24 | M20 | 110 | 47 | 55 | 27 | 87 | 20 | 46 | 36 |
| 26 | M20 | 118 | 51 | 57 | 31 | 91 | 20 | 46 | 36 |
| 28 | M20 | 118 | 51 | 57 | 31 | 91 | 20 | 46 | 36 |
| 32 | M20 | 124 | 54 | 59 | 34 | 94 | 20 | 46 | 36 |
| 35 | M22 | 136 | 60 | 65 | 38 | 104 | 22 | 51 | 40 |
| 36 | M22 | 142 | 63 | 67 | 41 | 107 | 22 | 51 | 40 |
| 38 | M22 | 142 | 63 | 67 | 41 | 107 | 22 | 51 | 40 |
| 41 | M25 | 157 | 69 | 75 | 44 | 119 | 25 | 58 | 45 |