Electric Wire Rope Hoist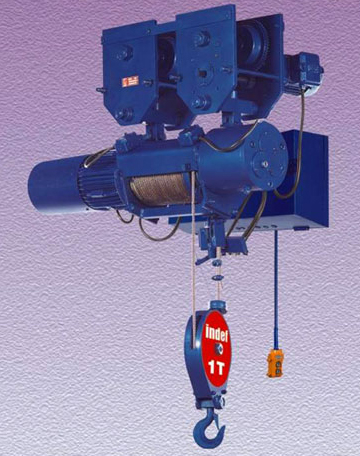 Heavy duty class IV robust design
Smooth operation even in toughest of application.
Manufactured in ISO 9001:2000 certified company
Assured quality and interchangeability of parts.
Truly modular constructor
Easily accessible separate brake, motor, drum, gear box & panel unit.
Seamless pipe accurately machined rope drum
Long life
Unique and sturdy rope guide arrangement
Prevents rope slackening and easy change of rope
Precision machine cut case-hardened alloy steel gears
Noiseless operation long life
Fail safe disc brake
Trouble free operation and ease of adjustment
Built in control panel with std. electricals
Ready to use.

Specifications/Dimensions (mm)
Type
WRH 1
WRH II
WRH III
WRH 1
WRH II
WRH III
WRH III *
Model
NP10I
NP201
NP301
NP102
NP202
NP302
NP303
Class
IV
IV
II
IV
IV
IV
II
IV
IV
II
S.WL. (Tonne)
1.0
2.0
2.5
3.0
2.0
4.0
5.0
6.0
7.5
10.0
Lift (Mtrs.)
6
12
20
6.6
11.4
19.2
6.8
11.8
20
3
6
10
3.3
5.7
9.6
3.4
5.9
10
4
6
Approx. Wt. (Kg.)
264
286
322
386
414
459
533
546
568
296
318
354
4/8
497
563
638
818
828
900
1000
Dim. B
1075
1285
1555
1170
1340
1610
1255
1425
1695
1075
1285
1555
1170
1340
1610
1255
1425
1695
1425
1695
Dim. C
552
752
1022
588
758
1028
635
805
1075
552
752
1022
635
805
1075
635
805
1075
1050
1295
Hoisting Speed
m/min
9
8
8
4.5
4
4
2.66
Hoisting Motor
H.R IK.W.)
3(2.2)
5(3.7)
7.5 15.51
3(2.2)
5(3.7)
7.5 (5.5)
7.5 (5.5)
Travelling Speed *
m/min
17
17
17
17
17
17
17
Travelling Moto»
HP [K.W.)
0.25 [0.18)
0.25 (0.18)
0.5 (0.37)
0.25 (0.18)
0.5 (0.37)
0.75 (0.55)
0.75 (0.55)
(2 nos.)
Min. Height of 'I'
beam (mm)
" 175
" 175
250
" 175
250
250
300
F Min. - Max.
90 - 180
90-180
125-210
90- 180
125 - 210
125-210
 
A Headroom
1170
1370
1480
1110
1345
1460
1825
D Min. - Max. *
151 - 196
151 - 196
163 - 178
151 ■ 196
163 - 1/8
163 - 1/8
452 - 48/
E Min. - Max.
399 ■ 444
399 - 444
412-457
399 444
412-457
412-457
452 - 487
G
31
3/ 42
42
37
51
67
89
H
130
1-13
M0
130
120
140
371
1
230
290
330
320
405
480
371
J
270
315
365
305
350
395
625
K
 
305
 
 
305
 
495
M +
380
380
380
No. of falls
construction
NOTE :
* Key abbreviations used in models are :
H- High Hoisting speed(8 & above)       N- Single speed (Normal speed)
L- Low Hoisting speed (4 & below)        D- Dual speed
* All Dimensions in mm. Data is subjected to change without prior notice
Medium Duty WRH
Medium Duty WRH NO/N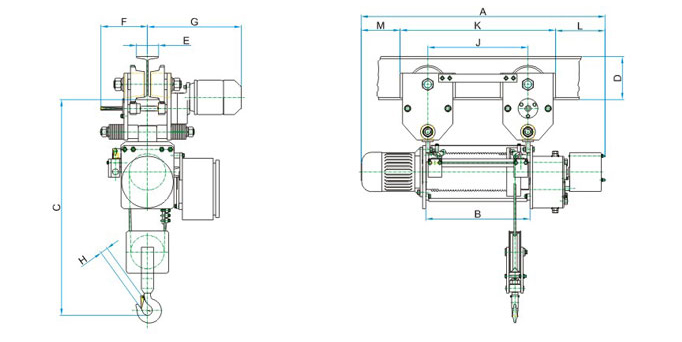 SPECIFICATIONS/DIMENSIONS (mm)
 
WRH NO
WRH N
 
Capacity (SWL)
MT
0.5
1
2
3
 
Lift
Mtrs.
3.5
6
9
12
3.5
6
9
12
5.2
8.2
1 12
3.4
5.4
7.4
A
 
mm
867
974
1103
1232
867
974
1103
1232
990
1119
1248
990
1119
1248
B
 
mm
316
423
552
681
316
423
552
681
385
514
643
385
514
643
 
Approx. Weight
Kg
114
160
170
175
119
164
175
180
225
240
255
300
315
330
 
No. of Falls

 

 
Hoist speed
MPM
5
5
5
3.3
 
Trolley speed
MPM
15
15
15
15
 
Hoist motor
HP
1.5 (1.11 KW)
1.5(1.11 KW)
3 (2.2 KW)
3 (2.2 KW)
 
Trolley motor
HP
0.25 (0.18 KW)
0.25 (0.18 KW)
0.25 (0.18 KW)
0.5 (0.37 KW)
C
Head room
mm
790
880
1070
1315
D
Min. beam height
mm
175
175
175
175

E

Min. flange
mm
90
90
90
90
Max. flange
mm
210
210
210
210

F

for min. flange
mm
189
189
189=G '
189=G '
for min. flange
mm
169
169
169=G'
169=G '
G
for max. flange
mm
381
381
381
381
for max. flange
mm
441
441
441
441
H
 
mm
31.5
31.5
34
42
J
 
mm
300
407
536
665
300
407
536
665
369
498
627
369
498
627
K
 
mm
524
631
760
889
524
631
760
889
593
722
851
593
722
851
L
 
mm
187
187
197
197
M
 
mm
156
156
200
200
C
Head room (with O.L.D.)
mm
890
980
1070
-
Data tolerance ± 10%
Medium duty WRH NO-HL/N-HL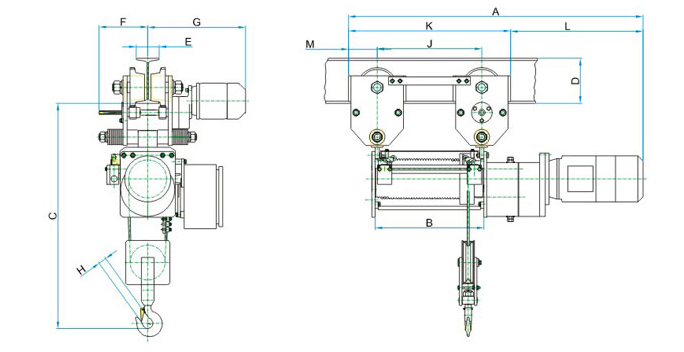 SPECIFICATIONS/DIMENSIONS (mm)
 
WRH NO-HL
WRH N-HL
 
Capacity (SWL)
MT
0.5
1
2
3
 
Lift
Mtrs
18
25
18
25
17.2
25
11.4
16.5
A
 
mm
1662
1964
1662
1964
1626
1964
1626
1964
B
 
mm
939
1241
939
1241
903
1241
903
1241
 
Approx. weight
Kg
18f>
215
190
220
285
315
360
390

 

No. of falls

 

 
Hoist speed
MPM
5
5
5
3.3
 
Trolley speed
MPM
15
15
15
15
 
Hoist motor
HP
1.5(1.11 KW)
1.5(1.11 KW)
3 (2.2 KW)
3 (2.2 KW)
 
Trolley motor
HP
0.25 (0.18 KW)
0.25 (0.18 KW)
0.25 (0.18 KW)
0.5 (0.37 KW)
C
Head room
mm
790
880
1070
1315
D
Min. beam height
mm
175
175
175
175
E
Min. Flange
mm
90
90
90
90
Max. flange
mm
210
210
210
210
F
for min. flnage
mm
189
189
189=G *
189=G '
for max. flange
mm
169
169
169=G*
169=G*
G
for min. flange
mm
381
381
381
381
for max. flange
mm
441
441
441
441
H
 
mm
31.5
31.5
34
42
J
 
mm
923
1225
1442
1659
923
1225
1442
1659
887
1225
1442 1659
887
1225
1442
1658
K
 
mm
1147
1449
1666
1883
1147
1449
1666
1883
1111
1449
1666 1883
1111
1449
1666
1882
L
 
mm
515
515
515
515
M
 
mm
112
112
112
112
C
Head room (with OLD.)
mm
890
980
1070
-