Indef Ratchet Lever Hoist - Model : S-PR0

•   Capacities up to 9T.
•   Easy Free Chaining: With selector lever set to middle position, the load chain and hook can be pulled into required position effortlessly.
•   Load Chain: Galvanized and tempered high tensile load chain compliant with DIN norms, standard 1.5m length, longer lengths possible against order.
•   Chain Guide: Leads the load chain properly into sprocket wheel without jamming and sticking.
•   Protected Hand Grip: Prevents manual slipping and hurting of fingers.
•   Double Guide Roller: Greater resistance to inclined loading.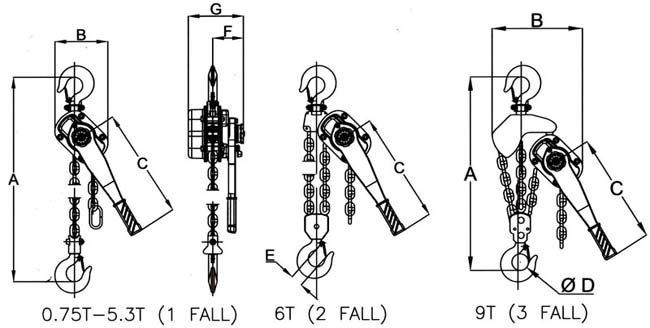 Specifications / Dimensions (mm)
Capacity
t
0.75
1.5
3
5.3
6
9
Standard
m
1.5
1.5
1.5
1.5
1.5
1.5
Min. Headroom (A)
mm
320
360
431
655
500
635
Lever Force
daN
22
24
33
37
36
38
Number of Chain Falls
1
1
1
1
2
3
Chain Size
mm
5.6X17
7.1X21
9X27
13X36
9X27
9X27
B (Dimensions)
mm
115
137
169
260
238
300
C
mm
239
259
374
400
374
374
D
mm
35
42
48
60
60
70
E
mm
23
28
33
41
39
51
F
mm
91
67
98
109
98
98
G
mm
146
162
187
213
187
187
Weight with Standard Lift
kg
5.3
8.6
15.2
32.5
23
43
Additional weight per mtr for Extra Lift
kg
0.7
1.1
1.8
3.7
3.6
5.4